Clinical Trials
RECRUITMENT FOR THIS STUDY IS CURRENTLY SUSPENDED until late 2018
Cell-Innovations is the sponsor of a clinical trial to study the safety and effectiveness of stromal vascular fraction (SVF) and is actively recruiting participants to the trial.
The trial is titled: A randomised, placebo-controlled, double-blind, proof of concept study of the safety and efficacy of autologous stromal vascular fraction (SVF) cells, in patients with moderate to severe chronic migraine headache.
Do you suffer from chronic migraine?
Cell-Innovations and Professor Roy Beran are currently recruiting for clinical studies on the safety and effectiveness of stem cells in reducing the frequency and severity of chronic migraines.  The study is over 12 months. To be considered for study participation you must have chronic migraine and be relatively healthy.
Study procedure and care will be provided at no cost. For more information about the potential benefits and risks of the study please contact the trial coordinator at
trials@cell-innovations.com.au or phone 1300 738 025.
This study has been approved by the Northern Sydney Local Health District Human Research Ethics Committee, reference number: HREC/15/HAWKE/279.
The study has been registered with the Australia and New Zealand Clinical Trials Registry (trial ID ACTRN12615001260516), and the ANZCTR website provides more details of study objectives and participant eligibility. Please click on the ANZCTR database image below if you wish to view details of the ANZCTR registration.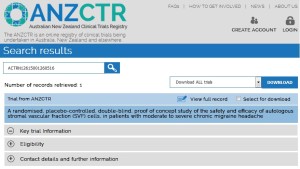 If you are considering participating in the study, and wish more participant information to discuss with your doctor, please contact trials@cell-innovations.com.au or phone 1300 738 025.
RECRUITMENT FOR THIS STUDY IS CURRENTLY SUSPENDED until late 2018.